KMUTT Bangmod Campus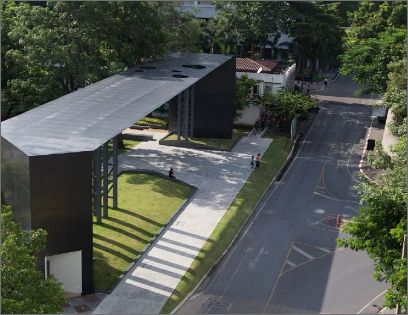 This 52 acre campus is located on the west side of Bangkok, embraced with Bangkok Metropolitan Park and Youth Center. It is the main campus of KMUTT. It houses Faculty of Engineering, Faculty of Science, Faculty of Industrial Education and Technology, School of Energy, Environment and Materials, School of Information Technology, School of Liberal Arts, the Joint Graduate School of Energy and Environment, Graduate School of Management and Innovation, Institute of Field Robotics, Institute for Scientific and Technological Research and Services, Computer Center and KMUTT Library.
Not more than 45 minutes from Suvarnabhumi Airport, you will reach to KMUTT which is located in 'Thonburi', the name of former capital of Thailand. Half a century ago, this area was full with orange orchard and it was remote and underdeveloped. However, as KMUTT yearly enrolments increased rapidly, the area soon became a new satellite city with ever-increasing shop-houses, apartment buildings, restaurants, cinema houses, department stores and places of entertainment. In addition, in just 25 minutes, you can reach downtown of Bangkok: Sathon, Silom, Siam, Sukhumvit by many means of comfortable.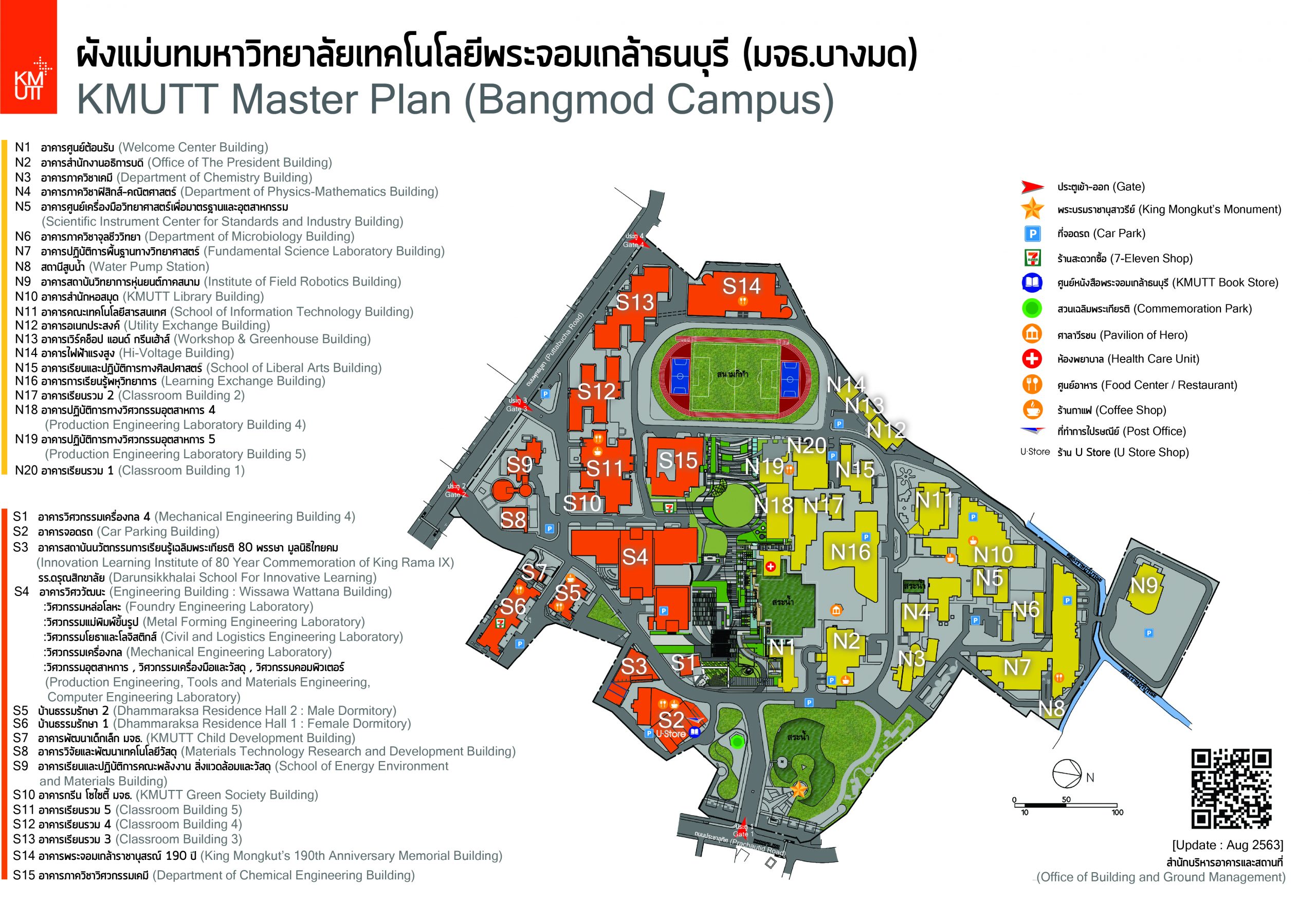 KMUTT Bangmod Campus
The 4th floor, the Office of the President Building 126 Pracha Uthit Rd., Bang Mod, Thung Khru, Bangkok 10140, Thailand
Phone : +66 2470 8000
Fax : +66 2427 9860
Transportation:
Buses that pass the university (Pracha Uthit road)
Number 75 Route of Wat Buddhabucha-Hua Lamphong
Number 21 Route of Wat Koo Sang – Chulalongkorn University
Buses that can reach the university, many bus lines Can arrive at the university By having to come down to Suksawat Road – Rat Burana Road And boarding the bus that passes through the university or a small bus
Number 142 Route of Thonburi Community Housing – Crocodile Farm Garage (Samut Prakan)
Number 141 Route of Samae Dam – Chulalongkorn University
Number 140 Route of Victory Monument-Samae Dam
Number 138 Route of Phra Pradaeng – Morchit Mai
Number 82 Route of Phra Pradaeng – Sanam Luang
Number 20 Route of Suksawat-Tha Din Daeng
Number 6 Route of Phra Pradaeng – Thewet
Inquire about bus routes Phone. 1348 and Website
Number 99 Route of Bang Pakok-Thung Khru
Number 90 Route of Bang Pakok Market – Thung Khru Temple
Number 88 Route of Big C (Bang Pakok) – Thung Khru
Number 77 Route of Big C (Rat Burana) – Phutthabucha Temple
BTS sky train to get off at Wongwian Yai Station
Exit 2 Then take bus number 120, line 57 to Dao Khong and then take bus number 75, line 21 which passes in front of the university