International Student Support & Services
Student Visa Maintaining
After granting Non-Immigrant: Education Class or Non-ED (as described in Information About > Admissions > International Admission > How to get visa), students must extend their visa at to maintain their visa status.
Visa Extension
Be aware, only the letter of acceptance from the university doesn't verify that you are a student. Therefore, Non-ED is valid only for 90 days when you first enter to Thailand.
For a single-entry visa holder:
The date printed on visa label is the date which you must use to enter Thailand. It is not the date that you are allowed to stay. After your arrival, your period of stay is determined by the Immigration Office at the checkpoint of the port of entry. Normally, it will be valid only for 90 days when you first enter to Thailand.
Please carefully check the date on the stamp, as it is the date which you should get an extension of your staying period.
Within these 90 days, you must register and pay tuition fee at the university. Consequently, at least 30 days in advance before your visa expiration, you must submit a copy of your passport (personal data page and visa stamped page) to International Affairs Office (IA) in order to issue a confirmation letter regarding your study and registration. Then, you can use the confirmation letter issued by the IA to apply, in person, for visa extension at the Office of Immigration Bureau. In addition, you need to prepare extra documents upon the requests from the Immigration Office. Basically, IA will prepare an extension documents and a map for you.
This time, you should be granted a visa for one-year stay or until the rest of your study period. The visa extension for the following year is also in the same technical procedures.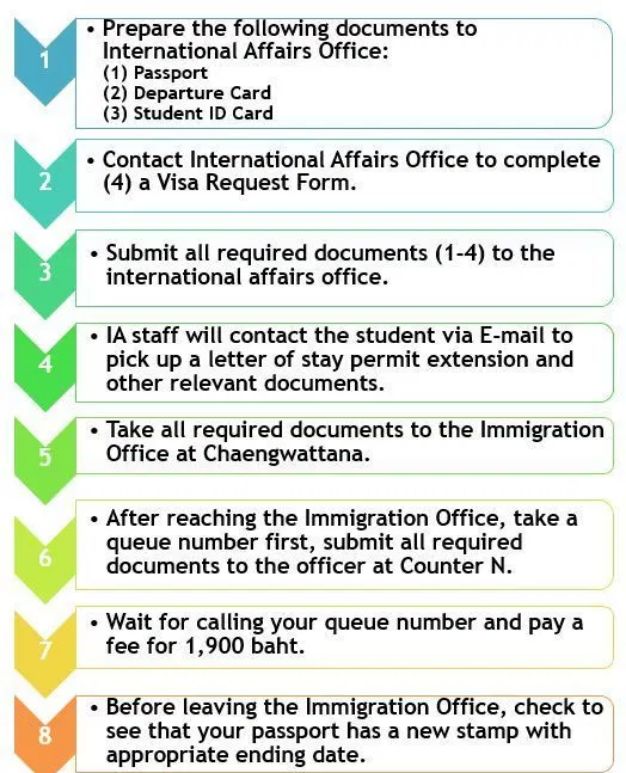 For a multiple-entry visa holder:
This type of visa allows you to travel in and out of the country several times, until the date of visa on the label is expired, without the need of a re-entry permit. Every time you leave and return, your period of stay is extended for 90 days or as shown on the immigration stamp upon each return. To extend this type of visa, you must leave and return before each 90 days is over. You should be careful, if you extend your period of stay with the same method of a single-entry visa, your multiple-entry visa will automatically change to a single-entry visa.
The 90 Days Notification
At the checkpoint of port of entry in Thailand, the 90 Days Notification card is tagged into your passport. You need to notify, either in person or by posting, the Immigration Bureau every 90 days and tell them your current address. It's a very simple form you must fill in with free of charge. Later, you will get a slip noting the next appointment date.
Again, the next notification is also in the same technically procedures.
How to do the 90 days notification.
Report in person at the Immigration office with original passport.
Report by registered mail

(Must be done at least 15 days before the due date of notification)
Photocopy of passport pages with following pages

Front page showing name / surname / Passport Number
Current visa
Last entry stamp of immigration
Last extension of visa
Photocopy of departure card TM.6
Previous notifications of staying over 90 days (if any)
Filled and signed notification form TM. 47 (Do not forget to sign your name)
Envelope with 10 Baht stamp affixed and return address of foreigner for the officer in charge to send back the lower part of form TM. 47 after having received the notification.
This part must be kept for reference and for future notifications of staying over 90 days.
The above-mentioned documents must be sent by registered mail and the receipt of the registration kept by the foreigner.
Send the mail before the renewal date 15 days to
90 DAYS REGISTRATION,
IMMIGRATION DIVISION 1
Chalermprakiat Government Complex
120 MOO 3, CHAENGWATTANA ROAD, SOI 7,
LAKSI, BANGKOK. 10210
Report online via the Immigration Bureau (Only for second notification onwards) on Link
(Must be done at least 15 days but not less than 7 days before the due date of notification)
Note:
The notification must be made within 15 days before or after 7 days; the period of 90 Days expires.
90 Days Report is NOT a visa extension.
The process can be done by person at the Immigration Office.
If students leave the country and then re-enter, the counting of the next 90 days period will start from the day of entry.
A fine 2,000 THB will be charged if students stay in the country over 90 days without notifying the Immigration Bureau later than the specified period.
Re-Entry Permit
For a single-entry visa holder ONLY
In case you want to travel out of the country, you need to apply for a re-entry permit before traveling. If not, you can not hold Non-ED anymore. You will come back to Thailand with a new type of visa (a tourist-visa: TR), then again you need to prepare traveling out to apply for Non-ED at the Thai Embassy abroad.
Working with a student visa

Legally, students are not allowed to work with Non-ED visa. But if you get an official job, you can also study with working visa.
How to apply for Re–Entry Permit
Foreign students who are holding a single entry visa and plan to travel out of the country need to apply for a single or multiple re-entry permit before their departure. The re-entry permit can be obtained at the Bangkok Immigration Office at Chaeng Wattana. The student can also apply for re-entry permit at Immigration checkpoint in Don Mueang International Airport or Suvarnabhumi Airport.
Documents required:
Application form (TM.8).
One 4 x 6 cm. headshot photo.
Original Passport and its copy include the first page of passport, visa page, departure card (TM. 6) and latest immigration stamp.
1,000 Baht fee for single entry and 3,800 Baht for multiple entry.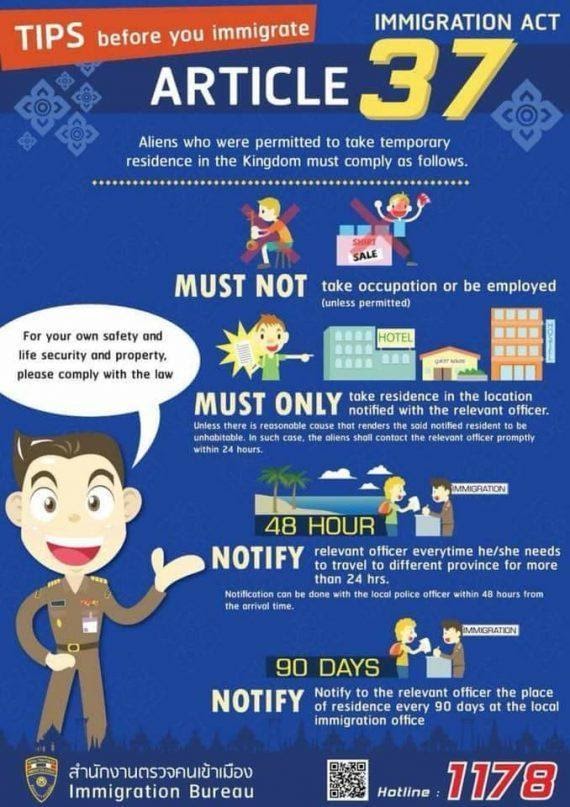 Visa Cancellation
According to the regulation on visa cancellation from the Immigration Bureau, Chaengwattana, Bangkok, all international full-time students are required to officially cancel their visa after graduation/resignation/termination from their institute before leaving Thailand. Otherwise, you may be on an overstay regardless of the expiration date of your stay permit extension.
The minimum charge of overstaying is 500 Baht per day counting from your graduation/resignation/termination date stated on your transcript. This goes to a maximum of 20,000 Baht for overstays of 40 days or longer.
Questions
Q: Can I just leave the country without cancelling my visa?
A: Effectively you could leave Thailand without cancelling your visa, but this is not the correct way to do things and will cause you issues if you intend to study or work in Thailand again in the future.
Q: What to do to cancel the visa?
A: You must contact your program coordinator so that he/she can send a memo to the IA Office to inform about your status. IA Office will issue a cover letter of visa cancellation for you, then you can pick it up and take it to the Immigration Bureau to cancel your visa.
Transportations to the Office of Immigration Bureau
If student would like to request for an immigration shuttle bus service organized by IA Office, please check on the schedule as attached and reserve the seat at least 1 week in advance
If not in the case, you can take a public transportation to the Immigration Office as the following routes.
Number 52 Pakkret – Bang Sue
Number 150 Pakkret – Bangkapi
Number 356 Pakkret – Rangsit
Van lines 10 Mo Chit 2 – Pakkret
Van lines 11 Ngam Wong Wan (The Mall) – Pakkret
Van lines 16 Minburi – Mo Chit 2
Van lines 22 Minburi – Pakkret
Van lines 26 Rama IX – Pakkret
Van lines 27 MBK Center – Pakkret
Maps
Immigration Office: (Click)
Royal Thai Police Headquarter: (Click)