The session that will help you find out more about the WTUN Student Competition 2022
WTUN Student Competition 2022 – Knowledge Exchange Session on Wednesday 8th June 17.00-18.30 hrs. (GMT+7) (or 1100-1230 hrs. UK Time)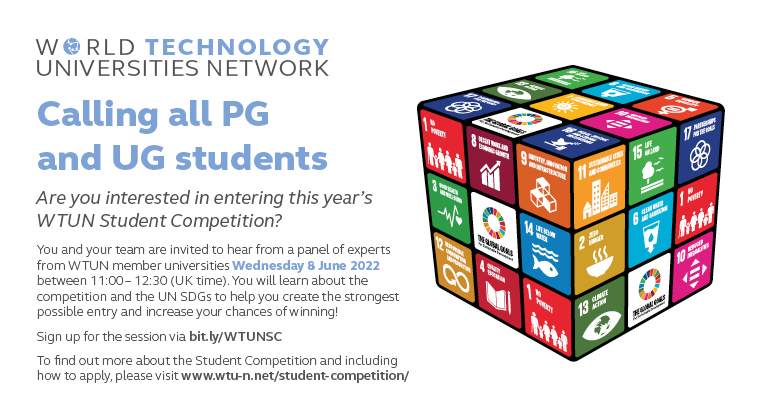 Date: Wednesday 8th June 17.00-18.30 hrs. (GMT+7) (or 1100-1230 hrs. UK Time)
Theme: What does Digital Creativity mean to you?
Aim: The mentor and knowledge exchange session will help guide students in their proposals. By providing information on the topic of digital creativity and how this can be applied to the UN SDGs, our experts will introduce their chosen topic and guide students in completing strong, and hopefully winning, entries!
Platform: the entire session will be on Zoom and presenters and students will be asked to attend one main room.
Style: Panel style followed by a question and answer
Sign up for the Knowledge Exchange and Information Session at http://bit.ly/WTUNSC
---
The session will cover:
Introduction to the WTUN Student Competition– how and when to apply, the format for submission and details of the prize(s).
Section 1- What is Digital Creativity?
Digital Creativity and Innovative Technology: Prof. Tiranee Achalakul (Director: Government Big Data Institute, Ministry of Digital Economy and Society, King Mongkut's University of Technology Thonburi) 
Section 2- The UN SDGs: What are the SDGs and how do we address them?
Affordable Clean Energy & Gender Equality: Dr. M.K.Badrinarayanan (Head, School of Management Sciences, Hindustan Institute of Technology and Science)
Clean Water and Sanitation: Dr David T. Easow (Head, School of Liberal Arts & Science, Hindustan Institute of Technology and Science)
Section 3 – How to produce a winning entry
Working as a team: Ms. Patience Kwakyewa Asirifi (Directorate of Research and Innovation, Koforidua Technical University)
Developing a credible proposal: Dr. Samuel Kwofie (Director, Research and Innovation, Koforidua Technical University)
---
Sign up for the Knowledge Exchange and Information Session at http://bit.ly/WTUNSC
---
See more detail about the Student Competition 2022 at https://www.kmutt.ac.th/internationalization/inter-news/wtun-student-competition-2022/