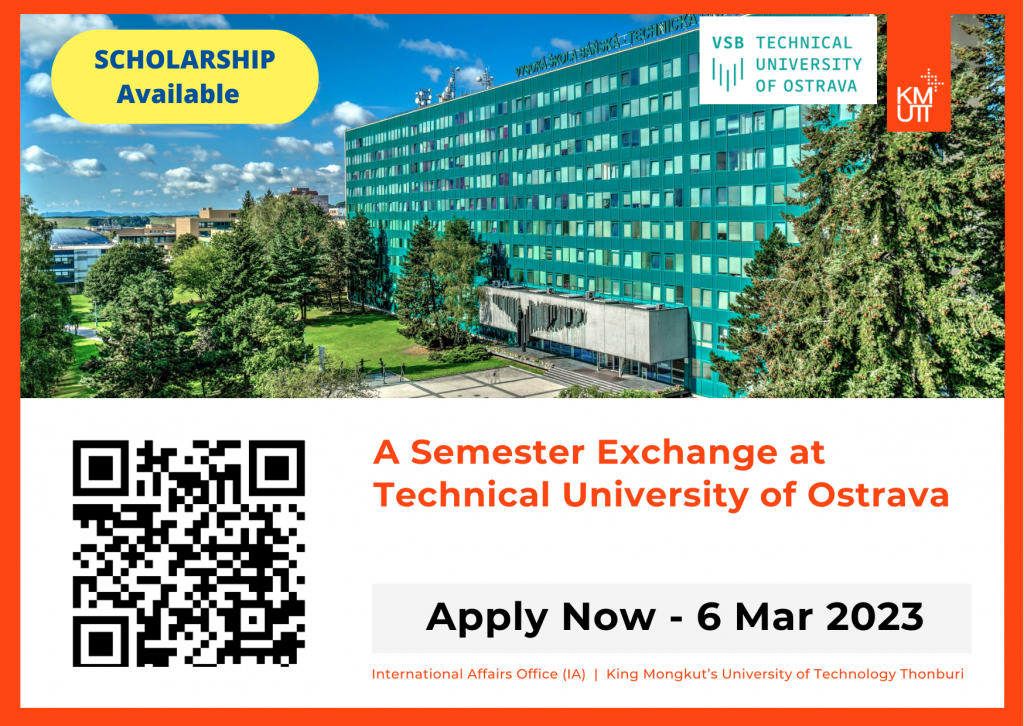 Place: Czech Republic
Period: Winter semester: (September – December 2023)
Language requirements:
IELTS score 5,0, TOEFL internet-based score 62 (possibly other certificates at the same level B1 – B2)
Scholarship: Accepted applicants may be granted financial support (32,000 CZK per semester/each) from the Host University
Guideline Program: (Click)
Application Steps
STEP 1: Students fill in the application form.
-Consult your advisor about course registration. This is to make sure that the credits taken at the partner institutions can be accepted and transferred back to KMUTT.
-Submit Online Application Form , and prepare the following required documents.
Student photo
Courses plan to register at KMUTT partner institutions. The course plan form: (https://kmutt.me/p8howSP)
Statement of Purpose
Recommendation Letter from Academic Advisor
Recommendation Letter from Head of Department
An official transcript
English language proficiency test result
Medical Certificate
A copy of passport
Curriculum Vitae/ Resume
STEP 2 Nomination
-After checking the applications and making sure that each applicant is eligible, the International Affairs Office will contact each student's Faculty /School and make sure that they are approved by their Faculty /School.
*IA Office will not be able to let applicants join the program without their Faculty /School's approval.
STEP 3: Interview
IA Office will select, interview, and nominate successful candidates to the partner institutions for their final consideration.
STEP 4: Announcement of Interview results
IA Office will notify the interview result to successful applicants and their Faculty/School.
Important Dates
Due date of application submission to IA: Monday 6 March 2023 before 12.00 hrs. (noon)
Interview Date: Monday 13 March 2023 (Afternoon Session)
---
Contact details
International Affairs Office (IA), KMUTT
The 2nd Floor., The Office of President Building
126 Pracha Uthit Rd., Bang Mod, Thung Khru, Bangkok, 10140 THAILAND.
Email: nontanan.rua@kmutt.ac.th
Tel. (66) 2470 8423 Fax. (66) 2470 8346
Students have a responsibility to carefully learn more details including complete and prepare all required documents by themselves.
Note: Please take into account that the exchange program can be postponed or canceled based on the COVID 19 pandemic situation and host universities' consideration.