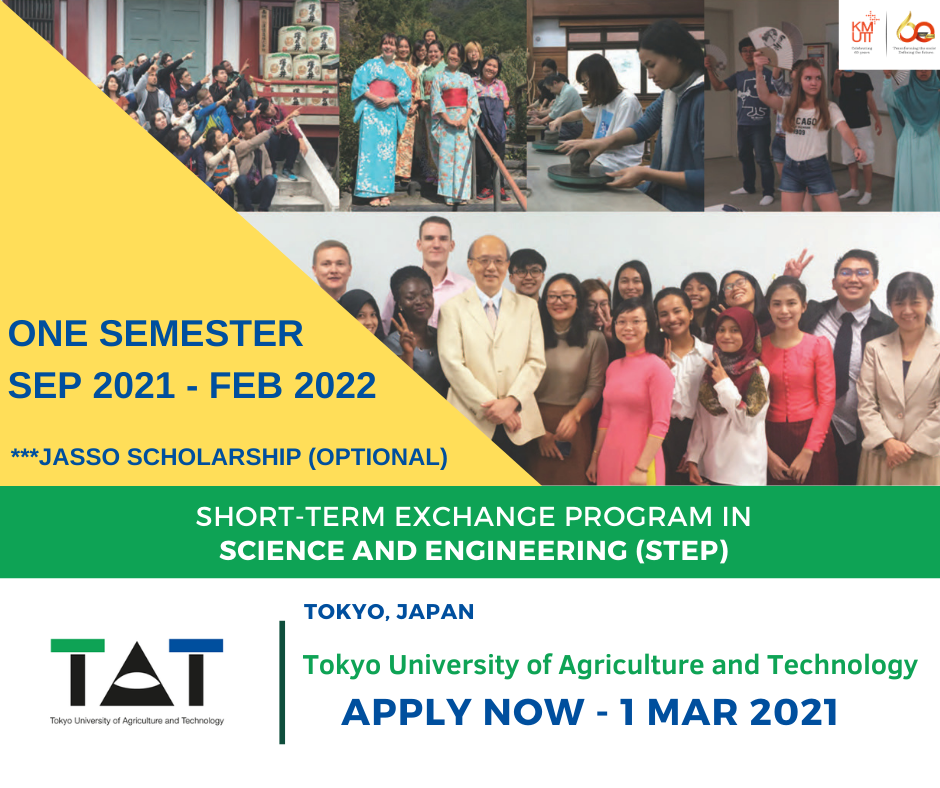 A Semester Exchange Program at Tokyo University of Agriculture and Technology (TUAT)
Place: Japan
Period: Fall Semester (September 2021 – February 2022)
Courses available:
*Elementary Japanese
*Intermediate Japanese
*Advanced Japanese
*Intercultural Communication
*Japanese Culture
*Language and Society
*Japanese Science and Technology
*International Cooperation of Science and Technology
*Science and Technology in the Global Era
*Engineering for Sustainable Society
*Advanced Study on Agriculture I
*Advanced Study on Agriculture II
*Advanced Study on Agriculture III
*Advanced Study on Agriculture IV
*Advanced Study on Engineering I
*Advanced Study on Engineering II
*Advanced Study on Engineering III
See more details: (Click)
Language Requirements: TOEFL or equivalent
Scholarship Opportunity: Prospective applicants for STEP program may apply for JASSO scholarship (an amount of 80,000 Japanese Yen/Month).
Eligibility
Applicants must be enrolled in a regular program either Undergraduate (3rd or 4th Year), Master or Doctoral program at an overseas institution which has an academic exchange agreement with Tokyo University of Agriculture and Technology.
Undergraduate students currently enrolled in 3rd or 4th year of their regular study (in home institute) are only allowed to apply.
Proficiency in English (nonnative applicants need to present an English proficiency certificate such as IELTS, TOEFL or equivalent). Proficiency in Japanese language is NOT mandatory.
Applicants with physically and mentally healthy.
Guideline Program: (Click)
Application Steps
STEP 1: Students fill in the application form.
-Consult your advisor about course registration. This is to make sure that the credits taken at the partner institutions can be accepted and transferred back to KMUTT.
-Submit KMUTT Outbound Exchange Online Application Form, and upload other required documents.
STEP 2 Nomination
-After checking the applications and making sure that each applicant is eligible, the International Affairs Office will contact each student's Faculty /School and make sure that they are approved by their Faculty /School.
*IA Office will not be able to let applicants join the program without their Faculty /School's approval.
STEP 3: Interview
IA Office will select, interview, and nominate successful candidates to the partner institutions for their final consideration.
STEP 4: Announcement of Interview results
IA Office will notify the interview result to the successful applicants and their Faculty/School.
Important Dates
Due date of application submission to IA: Monday 1 March 2021 before 12.00 hrs.
Interview Date: Monday 8 March 2021 (Afternoon Session)
Contact details
International Affairs Office (IA), KMUTT
The 6th Floor., The Office of President Building
126 Pracha Uthit Rd., Bang Mod, Thung Khru, Bangkok, 10140 THAILAND.
Email: nontanan.rua@kmutt.ac.th
Tel. (66) 2470 8468 Fax. (66) 2470 8346
Website: https://www.kmutt.ac.th/internationalization/mobility-program/exchange-programs/
Students have a responsibility to carefully learn more details including complete and prepare all required documents by themselves.