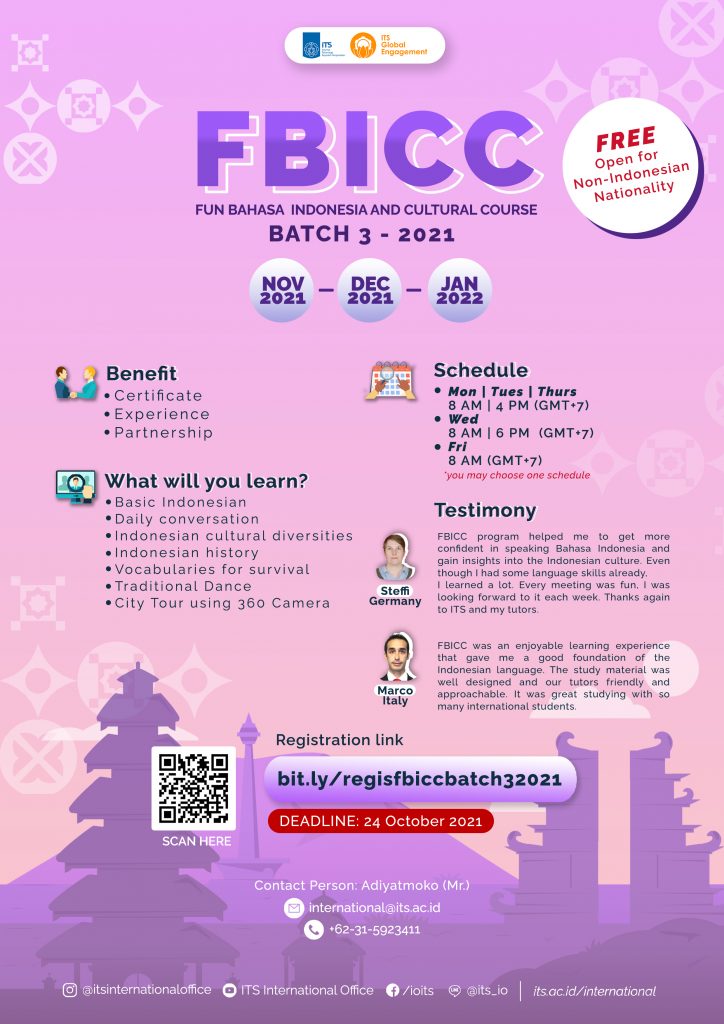 FBICC is one of ITS Global Engagement's programs which gives an opportunity for global citizens to learn Bahasa Indonesia (Indonesian Language) and cultural understanding. FBICC Batch 1 ran successfully and was attended by 431 participants from 38 countries while Batch 2 was attended by 273 participants from 48 countries around the globe. Continuing those successes, we are delighted to inform you that ITS Global Engagement proudly opens the registration of FBICC Batch 3 2021. The program is open not only for university students, lecturers, and administrative staffs, but also for public from any background. There will be 12 meetings including the pre and post-tests. A lot of rich learning and experiences await program is free of charge Please be advised that the program is free of charge.
Gaining knowledge and confidence in facing globalization is an existing challenge for every global citizen all over the world. Learning Bahasa Indonesia has become an advantage since Indonesia is the largest economy in Southeast Asia through the diverse archipelago, a nation of more than 300 ethnic groups (worldbank.org, October, 2020). We are certain that FBICC opens opportunities for global citizens to meet new people from different countries, thus, enabling them to initiate network, to exchange ideas, and to explore Indonesia's large cultural diversity.
REGISTRATION DEADLINE: 24 OCTOBER 2021
For further information about agenda, please kindly visit the following link: bit.ly/fbiccprogram2021
Should you have any questions, please do not hesitate to ask our staff, Mr. Adi, at international@its.ac.id or at +62 31 5923411. Thank you for your kind attention and we are looking forward to welcoming participants from your side in the program.