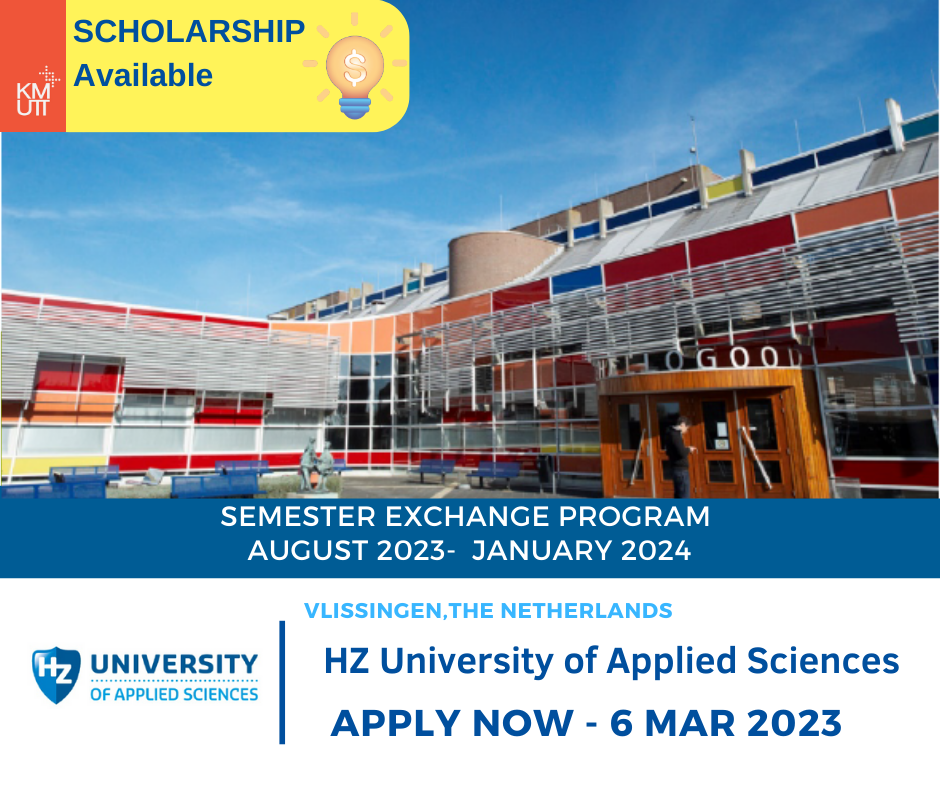 Place: the Netherlands
Period: Fall semester (August 2023 – January 2024)
Available Course:
Students can choose courses from the Bachelor programmes
that HZ offers in English. Courses can be found on website (https://hz.nl/en/study-programmes/exchange)
Language requirements:
All courses and examinations will be in English, so you need a good command of spoken and written English. The level required for admission should be an equivalent of the IELTS (International English Language Testing System) score of 6.0. For the scores of other accepted language tests than IELTS, the table below applies.

IELTS Academic
The IELTS Academic test is suitable for those wanting to study in an English-speaking environment or university (higher education).

TOEFL
TOEFL applicants need to request an additional score report through the TOEFL – ETS organisation (HZ UAS code number 6722). ETS will send an official score report to HZ UAS directly and HZ will be able to verify your TOEFL test results online.
We also accept the TOEFL Home Edition Test.
TOEIC
As long as the modules 'Speaking and Writing' and 'Listening and Reading' were successfully completed.
Cambridge In order to be able to verify your Cambridge English results online we kindly request you to share your results online by logging into the Candidate Results website and choosing to share them with HZ University of Applied Sciences.
Scholarship: Accepted applicants may be granted financial support (EUR 1,500/each) from the Host University
Guideline Program: (Click)
Application Steps
STEP 1: Students fill in the application form.
-Consult your advisor about course registration. This is to make sure that the credits taken at the partner institutions can be accepted and transferred back to KMUTT.
-Submit Online Application Form , and prepare the following required documents.
Student photo
Courses plan to register at KMUTT partner institutions. The course plan form: (https://kmutt.me/p8howSP)
Statement of Purpose
Recommendation Letter from Academic Advisor
Recommendation Letter from Head of Department
An official transcript
English language proficiency test result
Medical Certificate
A copy of passport
Curriculum Vitae/ Resume
STEP 2 Nomination
-After checking the applications and making sure that each applicant is eligible, the International Affairs Office will contact each student's Faculty /School and make sure that they are approved by their Faculty /School.
*IA Office will not be able to let applicants join the program without their Faculty /School's approval.
STEP 3: Interview
IA Office will select, interview, and nominate successful candidates to the partner institutions for their final consideration.
STEP 4: Announcement of Interview results
IA Office will notify the interview result to successful applicants and their Faculty/School.
Important Dates
Due date of application submission to IA: Monday 6 March 2023 before 12.00 hrs. (noon)
Interview Date: Monday 13 March 2023 (Afternoon Session)
---
Contact details
International Affairs Office (IA), KMUTT
The 2nd Floor., The Office of President Building
126 Pracha Uthit Rd., Bang Mod, Thung Khru, Bangkok, 10140 THAILAND.
Email: nontanan.rua@kmutt.ac.th
Tel. (66) 2470 8423 Fax. (66) 2470 8346
Students have a responsibility to carefully learn more details including complete and prepare all required documents by themselves.
Note: Please take into account that the exchange program can be postponed or canceled based on the COVID 19 pandemic situation and host universities' consideration.