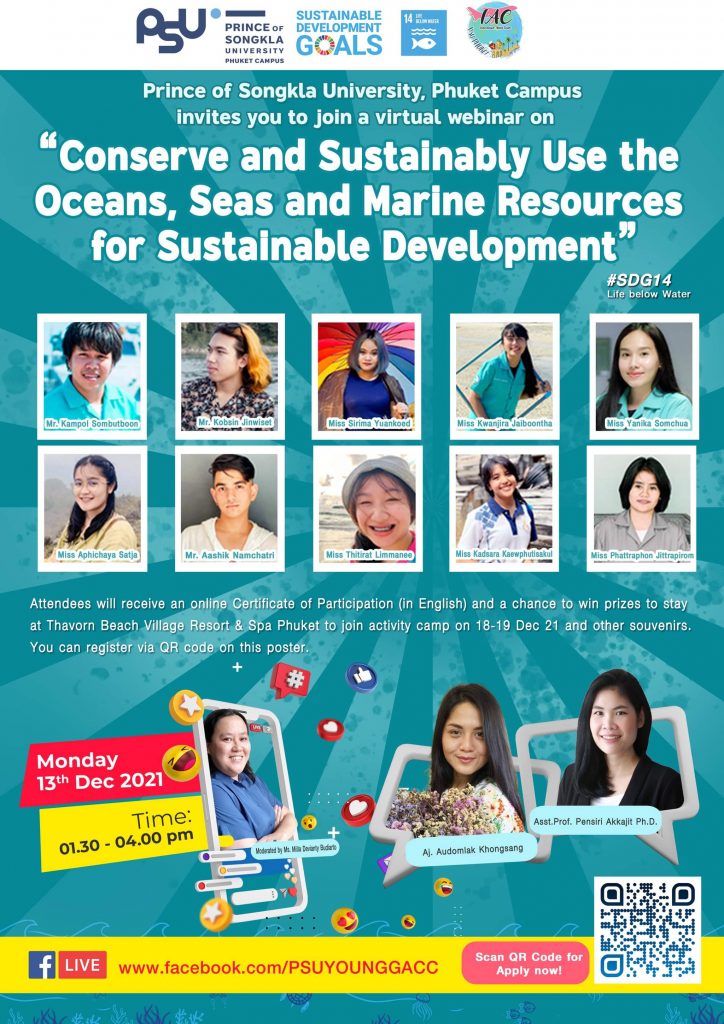 We would like to cordially invite you to participate in our free, student-led virtual webinar in "Conservation and Utilization of Marine Resources for Sustainable Development" organized by PSU Phuket International Affairs Centre (IAC) in accordance with the United Nations Sustainable Development Goals (SDG) 14: Conserve and Sustainably Use the Oceans, Seas and Marine Resources for Sustainable Development.
Date: Monday, December 13, 2021
Time: 01:30- 04:00 p.m. (GMT+7, Thailand time)
Platform: Facebook Live https://www.facebook.com/PSUYOUNGGACC (PSU YOUNG GACC: Marine Biodiversity Conservation Projects)
Registration link: https://docs.google.com/forms/d/e/1FAIpQLSchetkec3ZuOnF9w1AMmwfSBF2dJzcUkTu6B0m5SY8sr4PCkA/viewform?usp=sf_link
Registration deadline: Friday, December 10, 2021
***Note: Attendees will receive an online Certificate of Participation and a chance to win some prizes.
In this virtual webinar, each of the 10 Young Ambassadors will be sharing a 5-minute presentation on the following topics: ghost fishing, ocean acidification, handling of mask waste, how sunscreen harms the corals, coral tourism, overfishing bycatch, microplastics, conservation of baby mackerel, plankton blooms, and coastal vegetations.
We greatly appreciate it if you could help us disseminate this information to your students and members of your university who might be interested in joining the virtual webinar. Kindly find the attached webinar brochure for your reference.
For further inquiries regarding the webinar, please feel free to contact the International Affairs Centre at: iacpsu@phuket.psu.ac.th. We hope to virtually meet your students and members of your university.