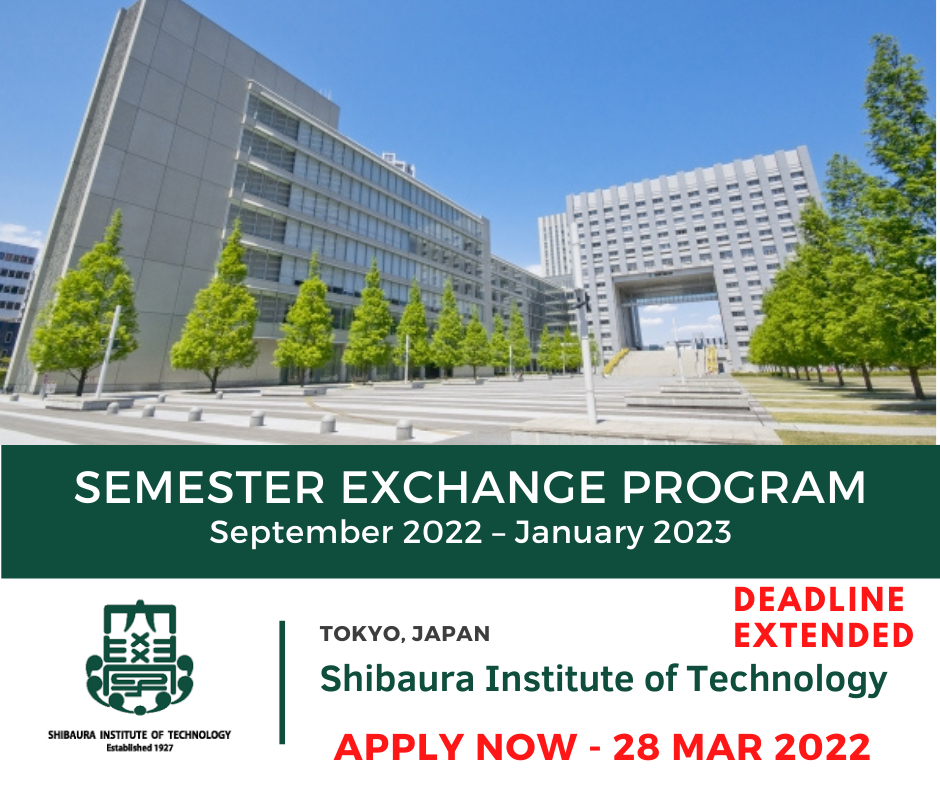 Program Period: Fall Semester: 24 September 2022 – 24 January 2023
Available Programs:
Architecture
Chemistry   
Civil Engineering 
Design
Electrical 
Electronic 
Information System 
Life Sciences 
Materials
Mathematical  
Mechanical 
List of offered courses: [Click]
Qualification
Must be an undergraduate and complete first two years at KMUTT or graduate student currently enrolled at KMUTT
Must be approved and recommended by advisor to enroll in the program
Must be able to attend throughout the whole program
Application Steps
STEP 1: Students fill in the application form.
-Consult your advisor about course registration. This is to make sure that the credits taken at the partner institutions can be accepted and transferred back to KMUTT.
-Submit Online Application Form, and prepare the following required documents.
Student photo
Courses plan to register at KMUTT partner institutions. The course plan form: https://bit.ly/3CPFIA
Statement of Purpose
Recommendation Letter from Academic Advisor
Recommendation Letter from Head of Department
An official transcript
English language proficiency test result
Curriculum Vitae/ Resume
STEP 2 Nomination
-After checking the applications and making sure that each applicant is eligible, the International Affairs Office will contact each student's Faculty /School and make sure that they are approved by their Faculty /School.
*IA Office will not be able to let applicants join the program without their Faculty / School's approval.
STEP 3: Interview
IA Office will select, interview, and nominate successful candidates to the partner institutions for their final consideration.
STEP 4: Announcement of Interview results
IA Office will notify the interview result to successful applicants and their Faculty/ School.
Important Dates
Due date of application submission to IA: Monday 28 March 2022 before 12.00 hrs. (noon)
---
Program Flyer: [Click]
---
By applying to the program, the International Affairs Office holds the right to assume that you have read the agreement and are willing to comply according to the terms and conditions of the program as written.
Students must apply to this program through the International Affairs Office only to be eligible
The International Affairs Office reserve the right to make any changes to the terms and conditions of the program without informing participants in advance.