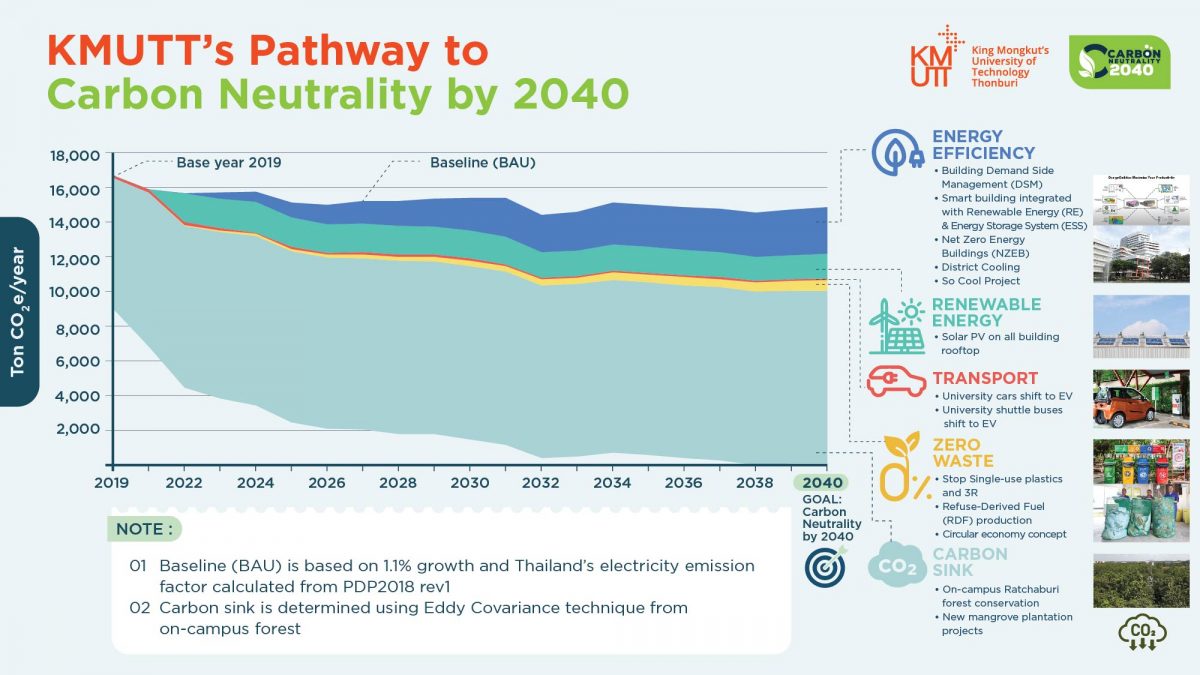 Carbon Neutrality or Net Zero carbon emissions is one of the problem-solving models for the current seriousness of the climate change situation. A lot of organizations in many countries are increasingly aware of and have started making mitigation plans to tackle this severe problem. King Mongkut's University of Technology Thonburi (KMUTT) as an educational institution responsible for disseminating new knowledge to society and taking part in driving the country's policies, has prepared to deal with the global climate change resolving policy which is relevant to one of the KMUTT's sustainability strategies. KMUTT also aims to be a part of an important movement that contributes to Thailand's achievement in Carbon Neutrality Goals by the year 2050 according to the declaration of intent 'KMUTT Carbon Neutrality 2040' announced on November 2, 2021.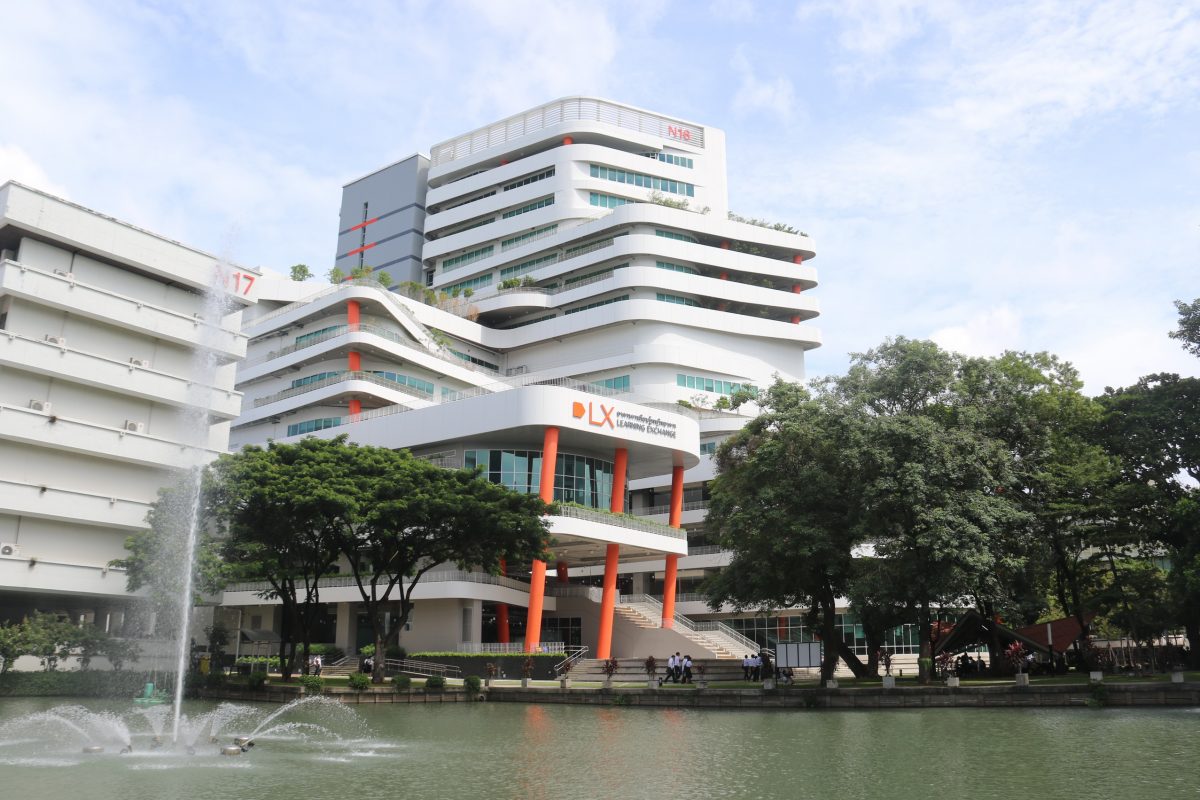 According to the study results and the collected data based on different scenarios of KMUTT policies on carbon dioxide emissions in 2019 (base year), KMUTT released about 16,720 tons of carbon dioxide, both direct and indirect emissions, resulting from the organization of various activities in all 4 campuses including KMUTT Bangmod, KMUTT Bang Khun Thian, KMUTT Ratchaburi, and KX Building (KX). The highest proportion of KMUTT carbon dioxide emissions is from electrical use which accounted for 94% of total emissions. KMUTT has launched its action plans for implementing the carbon dioxide emission measures to achieve its Carbon Neutrality goals by 2040. Those measures include the improvement of Energy Efficiency in all buildings by managing the electrical usage, developing smart building integration with the Renewable Energy and Energy Storage System which will lead to the Net Zero Energy Buildings, developing the District Cooling System and the "So Cool" Project for decreasing the temperature inside KMUTT by 1-2 degree Celsius, producing electricity from Renewable Energy by installing Solar PV panels on all potential building rooftops, changing KMUTT cars and buses to EV, conducting the Zero Waste Projects to reduce the amount of waste sent out for disposal through refusing to use single-use plastic measures, 3R measures, producing Refuse Derived Fuel (RDF) from waste and applying Circular Economy concepts.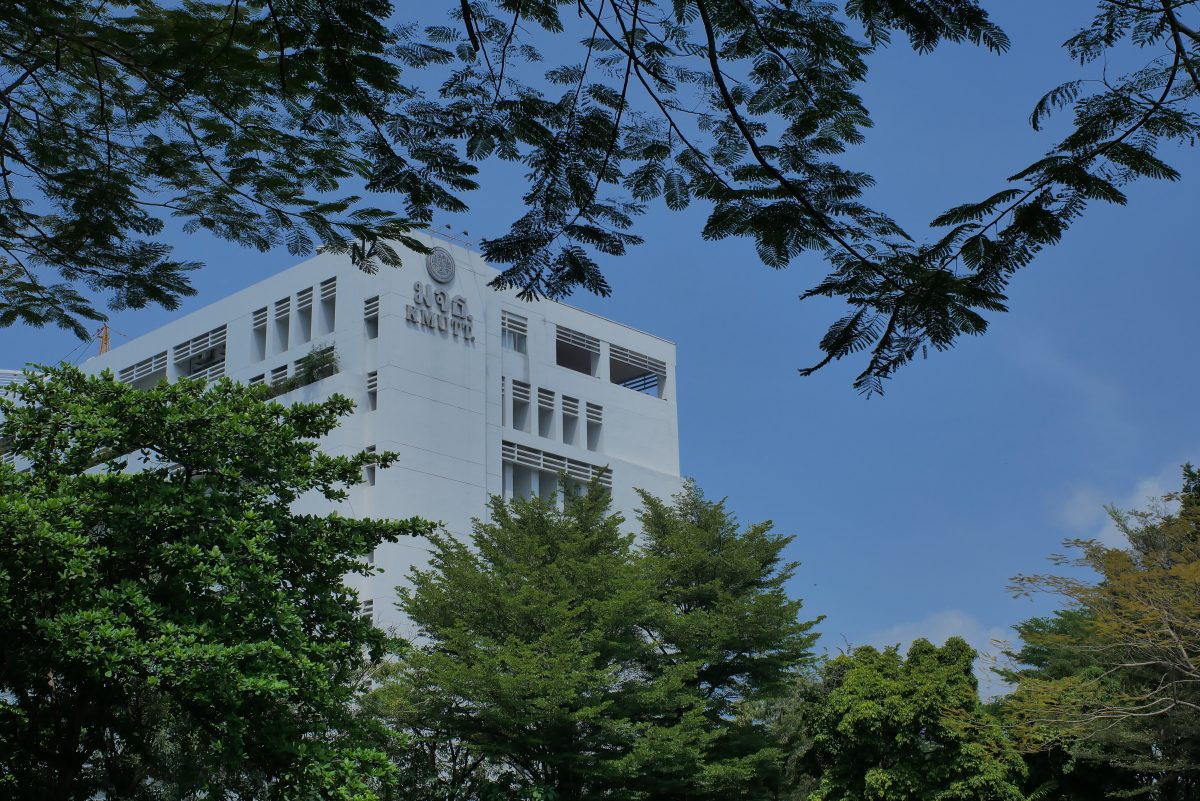 By implementing these measures, it is expected that in 2040 KMUTT will be able to reduce carbon dioxide emissions by 30% of base year emissions. This mainly results from the Energy Efficiency and the Renewable Energy measures. Apart from carbon dioxide emission reduction measures, KMUTT has implemented the KMUTT Ratchaburi Campus Forest Conservation Project and has developed a mangrove plantation over 130 Rai to absorb carbon dioxide emissions so that KMUTT will achieve its carbon neutrality goal by the year 2040.
For more information, please visit https://www.kmutt.ac.th/sustainability-sdgs/