As the COVID-19 outbreak continues, healthcare workers become infected during testing and treatment for potentially infected people. While personal protective equipment such as the n95 mask is rare, the design for the COVID-19 test station by Ms. Sunaree Lawanyawatna and Dr. Martin Schoch, architecture lecturers from SoA+D: School of Architecture and Design from KMUTT, has been developed. It is said to help reduce the spread of the disease to medical staff and other hospital patients.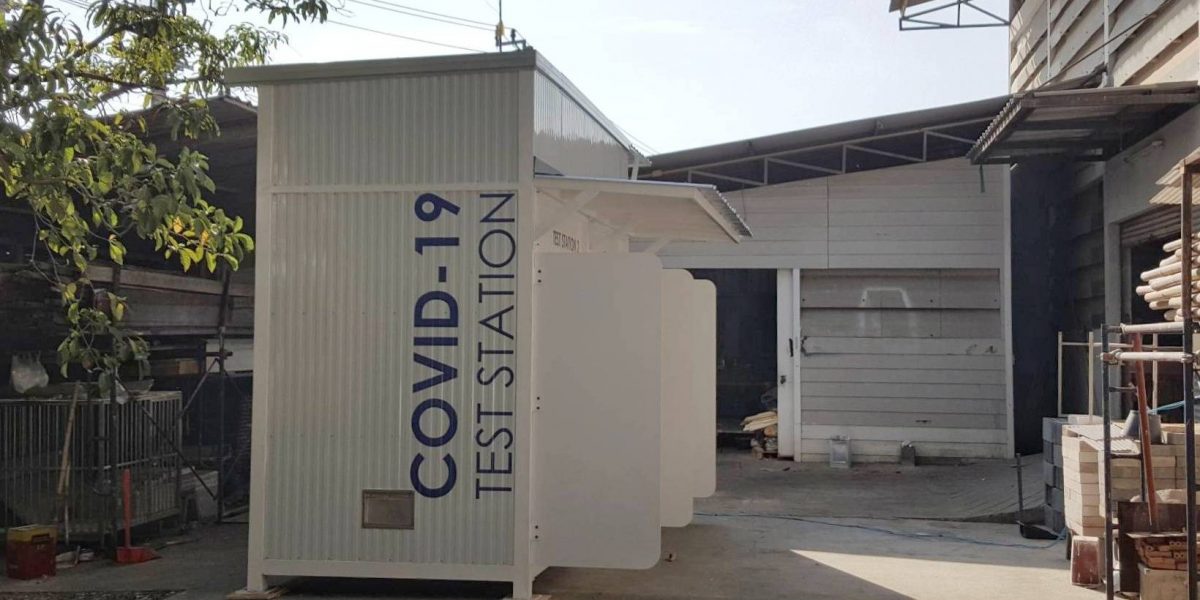 Ms. Sunaree Lawanyawatna, SoA+D: School of Architecture and Design, King Mongkut's University of Technology Thonburi (KMUTT) disclosed that earlier, the team designed a single booth for conducting a nasal swab. The swab is a method for collecting a test sample of nasal secretions from the back of the nose and the throat by using a polymerase chain reaction or PCR technique. Health care workers must be in very close contact with patients. She learned from interviews with doctors and experts that throughout the process of providing care, during and after the treatment, health care workers face the risks of infection. At each hospital, many patients are waiting, hence crowd gatherings occur. Out of this necessity, her continued ideas of five connected stations of COVID screening areas have emerged. The first station is to assess whether the patient meets the criteria for testing or not. The second is where health workers provide consultation after the assessment. Next is where the nasal swab-test takes place. The fourth is the medication dispensing substation for general symptoms while waiting for results such as painkillers and fever reducer. The last, the fifth substation is the registration point for follow-up.
Ms. Sunaree Lawanyawatna also added that drawing documentations of the design were provided to six hospitals, which are: Samitivej Sukhumvit Hospital, Udon Thani Municipality Hospital, Medical Engineering Division, Ministry of Health, Nakhon Sawan Municipality, Fort Somdej Phranaresuan Maharaj Hospital, Pitsanulok Municipality, Infrastructure and Medical Engineering Subdivision of Sri Saket Hospital, and Khanom Hospital, Nakhon Si Thammarat. The team continues to offer the design to more hospitals, which can be modified to suit the area, required use or budget of each hospital.
Together with the Institute of Field Robotics (FIBO) and TOT Public Company Limited, the team is cooperating on the adaptation of old phone booths for the screening and sample-taking purposes to assist the work of community hospitals and public health agencies in remote areas. Interested parties requiring more information can email sunaree.law@mail.kmutt.ac.th or visit https://bit.ly/TOT-COVID-19-Test-Station